Unique, Stellar and Exotic Look
Preview Courtesy of Lorena De Leon
Fans of Lorena know what you all have been missing. This outdoor adventure is a California Dream.
Things To Know
An exotic, unique mix of Brazilian and Swedish
A southern California Girl living now in fabulous Las Vegas! Fans have raved about this girl's career. You have to love a girl who's favorite activity is surfing or anything having to do with H2O. Loves to be topless and uninhibited and just oil herself from head to toe. This exotic dark haired, dark complexion and almond brown eyes is what fans have been dreaming about.
Lorena loves to attend all social functions and black tie affairs or just hangout in a summer dress or t-shirt and jeans at casual events.
Lorena has been dedicating more time and energy to modeling, and can be reached at Model Mayhem.
NAME Lorena De Leon
Location USA, Las Vegas
Stats 34DD-24-34
EYES Brown HEIGHT 5'5 WEIGHT 125lbs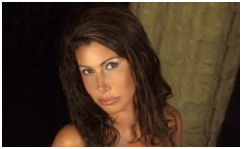 Whether it be a night on the town or a day by the pool, the experience is not complete until you have met Lorena. 
Reach Out
Phone: 858-436-4778
URL: www.lorenadeleon.com
E-mail
mylorenadeleon@gmail.com Model Mayhem: 2224950
Social Media
Twitter: @lovelylorena702
Instagram: lorena_de_leon_